Genre:  Instrumental Soul

Secondary Genre: Smooth Jazz

Website: www.dejmusic.com

Facebook: DarrylEvanJones

Discography: On My Own (2000), Dream (2006), Relentless (2013), Resilient (Pending)

Twitter: DarryEvanJones

Similar Artist: Nestor Torres, Najee

Booking Inquiries: Demetria Head
Headline Artist Management
headline@yahoo.com
313-489-1694
THE AMBASSADOR OF INSTRUMENTAL SOUL
0:00/0:45

0:00/0:44

0:00/0:44
DISCOGRAPHY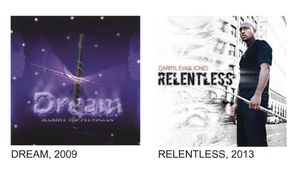 Welcome to my electronic press kit.  I strongly encourage my concert supporters and fans to download or copy and paste anything on this website to promote my concert performance. If you are posting to social media, I encourage the sharing of my YouTube videos with your friends. Thank you for spreading the good word! - See more at: http://www.ronaldroybal.com/press_kit/#sthash.rAJBzWZ7.dpuf
THE STORY

In the tradition of pioneering contemporary jazz greats like Tim Weisberg and Hubert Laws, Darryl Evan Jones, long known by his fans and peers as "The Fluteman" brings the unique instrument's classic vibe and rich melodic and harmonic possibilities to a new generation. 
Darryl Evan Jones' journey has brought him to performances stages like The Cannon Center in Memphis, Philadelphia's Mandell Theater, and the Capital Jazz Fest.  He's also been the opening act for artists like Jeff Lorber, Kem, Boney James, and has shared the stage with Marion Meadows.

The musical style of Darryl Evan Jones is truly original; combining the genres of Jazz, Classical, and Gospel music. He calls his style Instrumental Soul. Darryl insists that he's a soul singer who can't sing, but expresses his emotions through the flute.

Since the release of his "Relentless" album, Darryl has made quite a stir with this memorable project. Darryl Evan Jones unfolds the diversity of the flute as only a master of this instrument can do; a valuable asset to those who love this instrument and all other contemporary jazz fans.
 
"On The Run", the first radio single from the upcoming "Resilient" album has already made waves by making its mark on the Radio Wave Groove Jazz and SJ Network Charts. Set for an October 2023 release, "Resilient" is sure to cement Darryl Evan Jones as a bonified force in Contemporary Jazz.